About eQ-3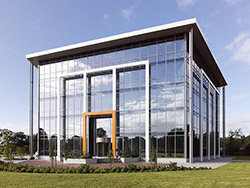 Over more than 30 years, the ELV/eQ-3 Group has developed from a technology pioneer into a European market leader in home control.
eQ-3 stands for innovation across a broad spectrum of technologies which, when combined with one another, represent a major leap in customer-oriented solutions. The field of home automation provides numerous examples of such solutions that make use of wireless technology and mechatronics, including electronic radiator thermostats. The eQ-3 Group has core know-how in battery operation, as well as in communication between two or more battery-operated devices. With its smart home products, eQ-3 is a market leader and, by integrating IPv6 into mass-market home control products, the company is already turning the oft-quoted vision of the Internet of Things (IoT) into a reality.

With more than 1000 employees, the ELV/ eQ-3 Group is one of the largest and fastest-growing employers in Germany's East Frisia region.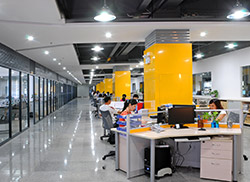 Development
We fulfil market requirements really quickly using state-of-the-art technology and proven development methods, and by maintaining close contact with the market and customers. With more than 70 employees, our R&D team is one of the biggest and most experienced in Europe in the field of home control, so even very demanding projects are in safe hands.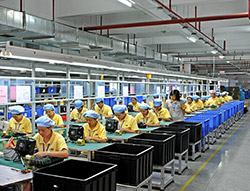 Production and tool making
By carrying out our development work in Germany and manufacturing in the Group's wholly-owned plant in Zhuhai, southern China, eQ-3 provides the ideal combination of high-quality German engineering and low manufacturing costs. With an excellent manufacturing depth, from tool making to plastic injection moulding, clean-room painting, equipping, the latest soldering methods, assembly, testing and chip bonding directly on the PCB, we can create batches running from just hundreds to hundreds of thousands of products.
Quality
The guarantee of maximum process quality is a thread that runs through all company areas at eQ-3. All eQ-3 products are "Developed in Germany" and strictly follow all of the relevant safety standards. Our plant is certified in accordance with ISO 9001:2000 and the international environmental management standard ISO 14001. Furthermore, manufacturing is subjected to regular plant inspection audits for certification by VDE, VdS, TÜV Rheinland LGA and UL.